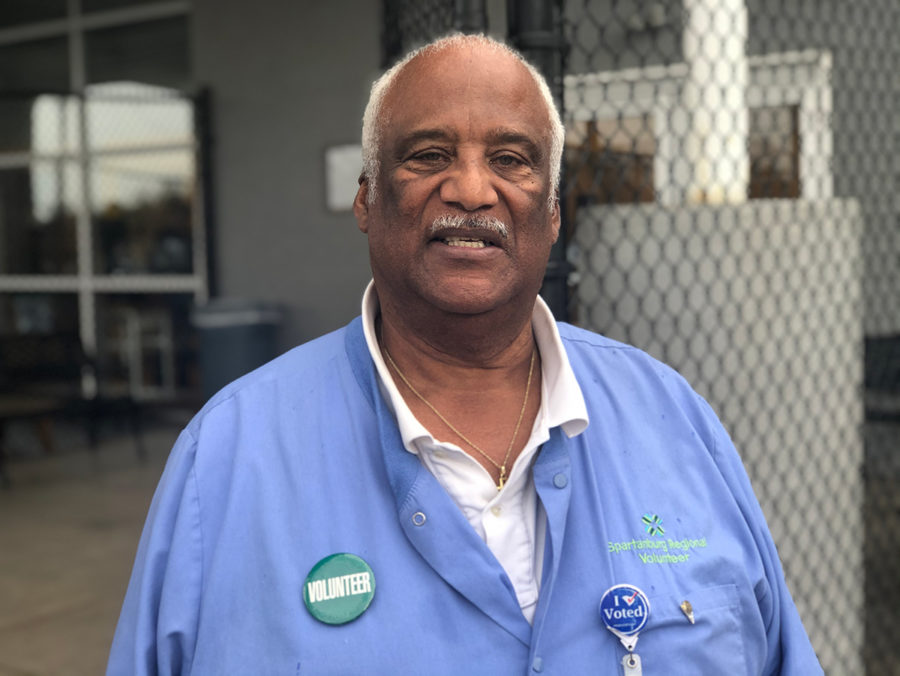 "Whatever services we do, we do them out of love. That's the difference." Said Reginald (Reggie) Thomas, who has spent the last 28 years serving his community through the Spartanburg Soup Kitchen.
It all started with curiosity. One day, all those years ago on Reggie's daily route home for lunch, he decided to stop by the first soup kitchen on N. Church St. to see what it was all about. Little did he know that he would fall in love with the work that the soup kitchen was doing, and in just 4 short years he would became the Saturday Director.
Reggie takes his love for the community further by teaching both Wednesday night bible class and youth bible class on Sundays at Bunton CME Church on Norfolk St., and volunteering over 5,000 hours at Spartanburg Regional Hospital.
When asked how he has time to volunteer in so many ways, he replied, "That's my DNA, I just love helping people period."
Today, Reggie still serves as the Saturday Director at the soup kitchen, where he oversees the kitchen, the volunteers, and most importantly, the patrons whom Reggie calls "our very special people". He gives tours to the volunteers before serving time, and tries to be an ambassador to the patrons so that they are heard and understood.
In 1998 Reggie had a major heart attack. Most thought that would halt Reggie's ability to serve, but it only made him stronger. Lou Sartor, our Director had wonderful things to say about Reggie; the first being that "When faced with medical issues, he never waivers. His stamina and commitment are both amazing."
Likewise, Reggie had wonderful things to say about Lou and her two assistants, Ms. Ruth and Ms. Ollie. "We're a family at the soup kitchen. Lou's got a hard job, but she's a great communicator and does a beautiful job of directing us. There is no comparison between her and the other directors before her." He also stated that "On every third Saturday food stamps are low, money has been spent, and the pantry is at it's emptiest. Ms. Ruth and Ms. Ollie step up and make delicious meals despite the overwhelming circumstances and higher attendance."
We have a max capacity of 366 people and serve food between 11:30am-12:30pm, 365 days a year. Our faith based organization displays a bible verse on the wall for everyone to see; it reads, "For I was hungry and you gave me something to eat, I was thirsty and you gave me something to drink, I was a stranger and you invited me in." – Matthew 25:35.
Whether it's to volunteer, to donate, or to eat, Reggie and the rest of our team welcome you to the Spartanburg Soup Kitchen.